Equipment in Japan
Bar Feeder equipped Swiss-type NC Combined Axis Lathe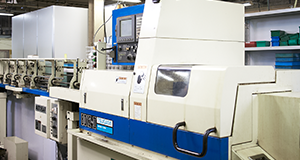 Tsugami B012 (Two machines)
Guide bush-less Swiss NC lathe by Tsugami. Typically used for mass production of small diameter parts.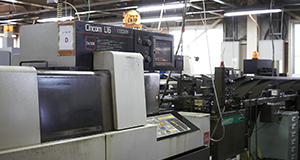 Citizen L-16 (Four machines)
Swiss-type NC lathe made by Citizen. Bar size Φ2~16mm. Capacity from small lot production of several hundreds to mass production, such as stainless steel aeronautic parts.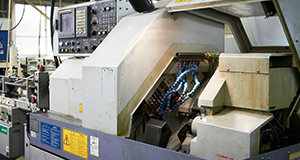 Star Micronics SA-16
Swiss-type NC lathe by Star Micronics. Bar size Φ2~Φ16. Used for our smallest diameter parts requiring high quality surface finish, such as parts for mechanical watches.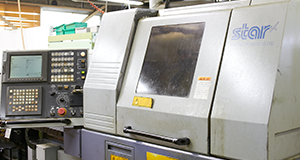 Star Micronics SR-20
Bar size up to Φ20mm. Our machine with the most reliable precision.
NC Lathe, NC Combined Lathe, Small-size NC Lathe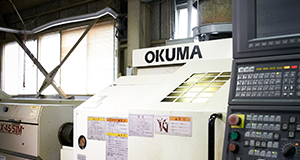 Okuma LCS-15 (Two Machines)
CNC lathe made by Okuma. Bar size is Φ8 to 39mm. This machine will covers sizes Swiss-type lathes cannot handle.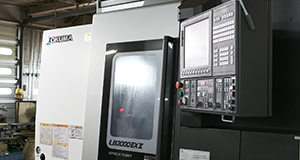 Okuma LB-3000 EX2
CNC Lathe with combined milling function. Okuma machines have high rigidity and good resistance to machine precision fluctuations against heat, perfect to mass produce high precision aircraft parts.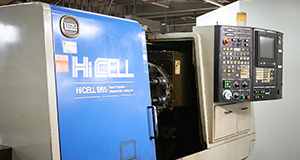 DMG Mori Seiki (formally Hitachi Seiki). Hicell B-65 (Two machines)
CNC combined milling/turning machine made by Hitachi Seiki (now DMG Mori Seiki) Bar size up to 65mm. With various tools, complex features can be machined.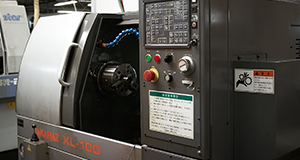 Takamaz Machinery XL-100
CNC automatic lathe with turret system with milling capability. Used as second process machining. High precision for parts requiring micron tolerances.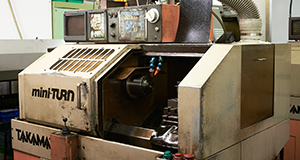 Takamaz Machinery Mini-turn
CNC lathe with horizontal tool bed layout enabling a wide range of tooling options.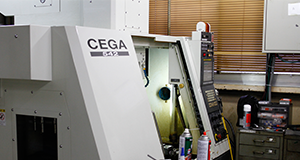 Roku Roku Sangyo CEGA
CNC machining center with high speed spindle and high precision made by Roku Roku Sangyo. Spindle rotates at 30,000rpm. The positioning precision is ±0.1μm. Used to machine fine parts and features using small diameter end mills such as Φ0.3mm.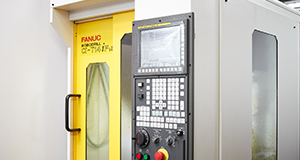 FANUC ROBODRILL
FANUC ROBODRILL machines generic parts. The machine is compact and easy to operate. Used primarily for second process after turning. Automatic tool change is quite rapid, useful for mass production.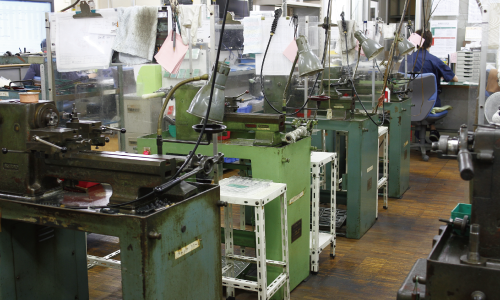 Desktop Lathe
AKEBONO (N°5 (4 machines), N°6 (2 machines)
KITAMURA (N°8 (2 machines)
Precision Roll Forming Machine
NISSEI Comet N°3 (2 machines)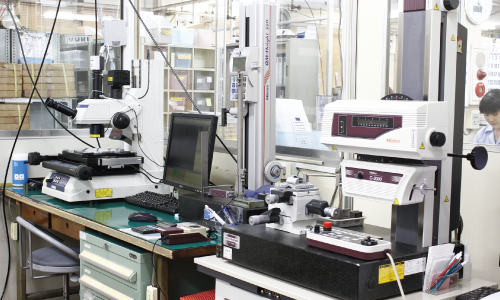 CMM TESA Micro-Hite3D DUAL
Measuring Microscope

 

Mitutoyo MF-U
Contour Measurement Machine Mitutoyo
Roundness Measuring Machines RONDCOM
Profile Projector

 

Mitutoyo
Height Measuring Tools Mitutoyo
Surface Roughness Measuring Tool
Pin Gauges
Thread Gauge
Digital Indicators
Bore Gages
Depth Gages
Groove Micrometers
and more